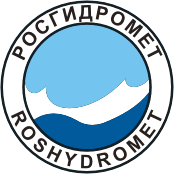 Roshydromet is a federal executive body under the jurisdiction of the Ministry of Natural Resources and Ecology of the Russian Federation. Roshydromet is involved in administrating the state property and providing services in hydrometeorology and related fields, as well as environmental monitoring. Again, Roshydromet acts as a governmental supervisor of activities in modification of meteorological and other geophysical processes.
The head of Roshydromet is Alexander V. Frolov (more - Roshydromet web site)
Web site of Roshydromet http://www.meteorf.ru
Milestones, main functions and structure of Roshydromet and priorities of the development of the Russian Hydrometeorological Service for the years immediately ahead. [скачано/download :1856 ] (2011, .pdf 1.9 Mb)
Roshydromet includes 17 Federal research institutions. Two of them are state-owned research centres of the Russian Federation. These are "The Arctic and Antarctic Research Institute" and "The Hydrometeorological Research Centre of the Russian Federation".
| | "Arctic and Antarctic Research Institute" (AARI, Sankt-Peterburg) | http://www.aari.nw.ru |
| --- | --- | --- |
| | "Institute of Global Climate and Ecology of Roshydromet & RAS" (IGCE Roshydromet & RAS, Moscow) | http://www.igce.ru |
| | "Voeikov Main Geophysical observatory" (MGO, Sankt-Peterburg) | http://voeikovmgo.ru |
| | "State Hydrological Institute" («SHI», Sank-Peterburg) | http://www.hydrology.ru |
| | "Hydrometeorological Research Center of Russian Federation" (Hydrometeorological Center of Russia, Moscow) | http://meteoinfo.ru |
| | "State Hydrochemical Institute" (SHCI, Rostov-na-Donu) | http://www.ghi.aaanet.ru |
| | "All-Russian Research Institute of Hydrometeorological Information - World Data Center" (RIHMI-WDC, Obninsk, Kaluga region) | http://www.meteo.ru |
| | "All-Russian Scientific-Research Agricultural Institut" (ARSRAI, Obninsk, Kaluga region) | http://www.cxm.obninsk.ru |
| | "Zubov State Oceanographic Institute" ("ZSOI", Moscow) | http://www.oceanography.ru |
| | "Central Aerological Observatory" (CAO, Dolgoprudny, Moscow region) | http://www.cao-rhms.ru |
| | "Scientific Research Center of Space Hydrometeorology "Planeta" ("SRC "Planeta", Moscow) | http://planet.rssi.ru |
| | "Siberian Research Regional Hydrometeorological Institute"(SiRRHI, Novosibirsk) | http://sibnigmi.ru |
| | "High-Mountain Geophysical Institute» ("HMGI", Nalchik) | http://vgistikhiya.ru |
| | "Fydorov Institute of Applied Geophysics" (IAG, Moscow) | http://ipg.geospace.ru |
| | "Research and Production Association "Typhoon" (RPA "Typhoon", Obninsk, Kaluga region) | http://www.typhoon.obninsk.ru |
| | "Far Eastern Regional Hydrometeorological Research Institute" (FERHRI, Vladivostok) | http://www.ferhri.org |
| | "Caspian Marine Research Center" (CMRC, Astrakhan) | http://www.caspianmonitoring.ru |